A new era opens up in the field of medicine and aesthetic surgery. While all robots (or rather co-bots) developed in recent years can only move if controlled directly by an operating doctor, the NextMotion robotic arm is equipped with a vision system and artificial intelligence that allow it to autonomously deliver the treatment plans decided by doctors.
Combined with an electronic serynge that can steadily deliver calibrated doses to the thousand of a milimeter, injections are delivered with a very high accuracy, both in the positioning of the points as in the injected volumes.
The patient's face is previously scanned with a smartphone equipped with the NextMotion technology, which allows the doctor to report injection points on a 3D image representing the patient's face, where he can if needed superimpose the anatomic structures, so as to carefully avoid dangerous areas, thus offering utmost safety.
The spatial co-ordinates of these points will then be transmitted to the intelligent robot equipped with cameras and proximity sensors, which can proceed with the injections under the doctor's strict supervision.
"This new technology, as an extension of / in continuation with the NextMotion ecosystem, should be seen as a complementary tool for practitioners to offer higher precision, safety and satisfaction to all their patients" Dr ELARD.

Pre-clinical studies are under way at the Henri Mondor hospital plastic surgery unit, to confirm that this new procedure will provide more accuracy, less pain and replicable results for patients.
The medical certification process is currently under way.
The first injector robots should be available by spring 2022.
« The advent of the robotic era is unavoidable and should not be considered as a threat for our profession, but rather a wonderful opportunity to evolve the way we handle our patients' treatment", Dr Elard continues. « This close doctor-robot collaboration will allow doctors to elaborate more advanced and sophisticated treatments which can be carried out by the robots, under the doctor's strict control, with unsurpassed accuracy, and increased safety for all our patients".
A few key figures:
Space positioning accuracy: 0.1 mm margin of error

Injection accuracy: coupled with an electronic syringe that can deliver volumes in the range of thousands of a millimeter

Robotic arm sensitivity: can detect pressure as low as five grams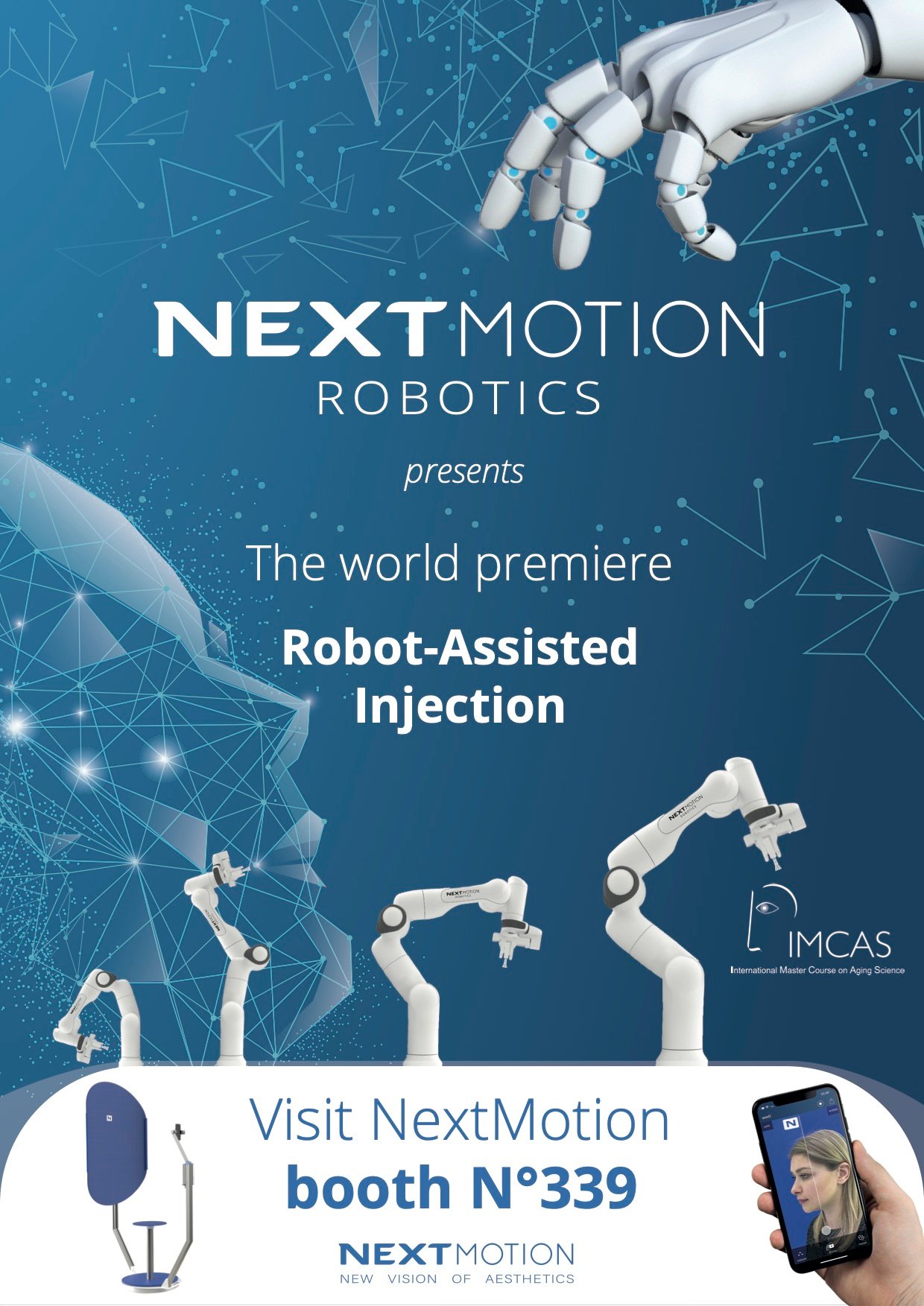 Join us at the IMCAS 2020 in Paris, from 30th Jan to 1st Feb 2020, and attend our NextMotion robot world premiere.